Enter to Win The Down-to-Earth Sweepstakes
Win a New Bathroom!
Fill out the form below to enter our Down to Earth Sweepstakes, and win a complete bathroom remodel—a $10,000 value!
Contest Ends October 31st!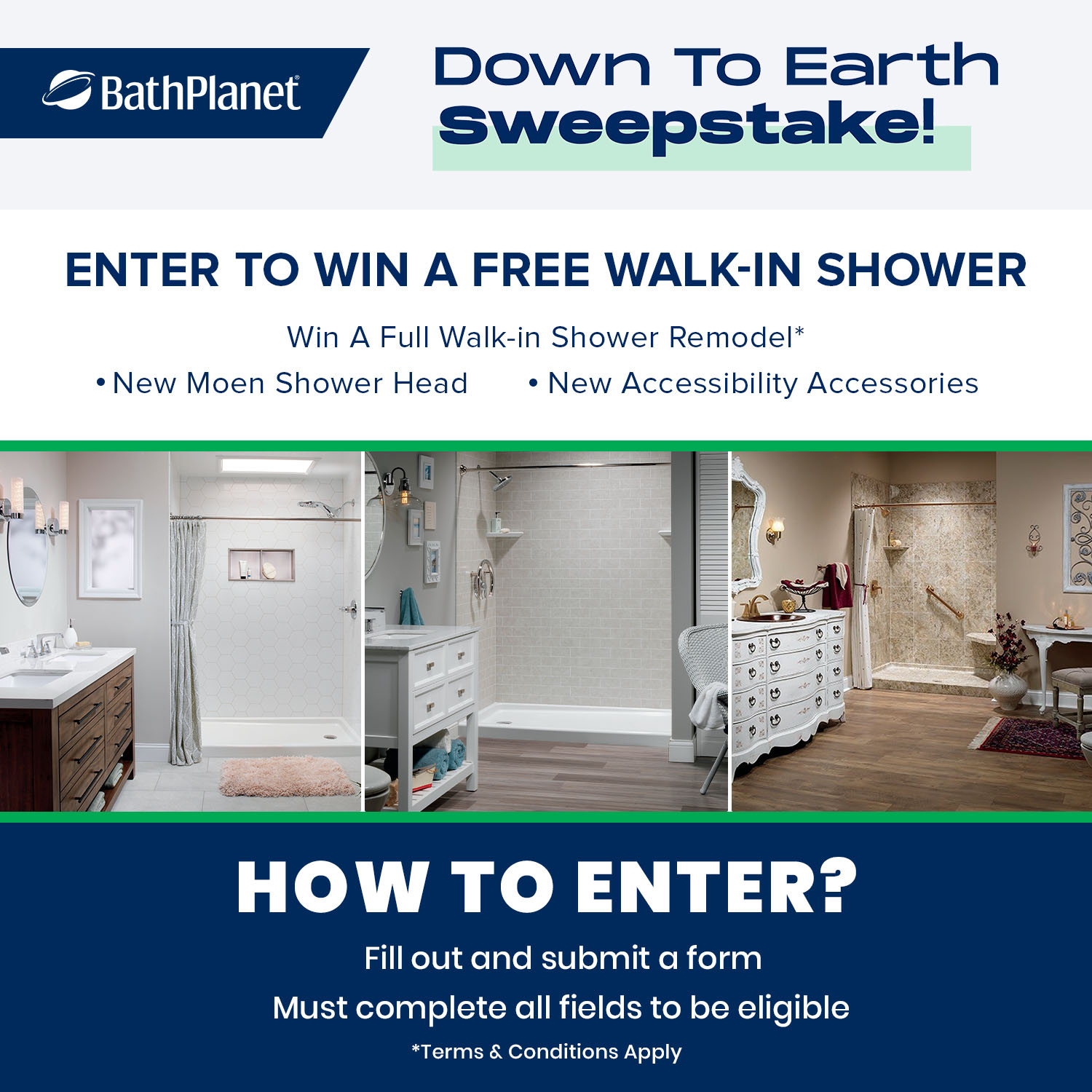 I understand and acknowledge I have been selected as a winner of the Bath Planet of Jacksonville/ NSH Design Group Inc , Down to Earth Sweepstakes (the "Sweepstakes"), sponsored by Bath Planet of Jacksonville (the"Sponsor") and I am submitting this Affidavit and Release Form with the understanding it will be relied upon to determine my eligibility to receive the Walk-In Shower Remodel (the "Prize"). The Walk-In Shower Remodel (the "Prize") includes; New walk-in shower system; white walls & spray foam base, Full demo and waterproofing (2) Corner shelves, (1) Curtain rod, (1) Grab bar, (1) New Moen Magnetix shower head; and plumbing services to install.
I UNDERSTAND AND ACKNOWLEDGE THE EXECUTION OF THIS AFFIDAVIT AND RELEASE FORM AND/OR MY PARTICIPATION IN THE SWEEPSTAKES DOES NOT GUARANTEE ME ANY PRIZE AND I WILL ONLY BE ELIGIBLE FOR THE PRIZE SHOULD I MEET THE VERIFICATION AND ELIGIBILITY REQUIREMENTS BELOW.
I affirm and represent, I have reviewed, understand, and fully complied with (and will continue to fully comply with) the Official Rules of the Sweepstakes, and I have committed no fraud or deception in entering the Down to Earth Sweepstakes. By providing my initials in the subsection below, I further affirm and represent:
A. VERIFICATION:
(i) I am the individual named on the winning Down to Earth Sweepstakes entry shown above, in compliance with the Official Rules. I understand I will receive the Goods and Services from Bath Planet of Jacksonville totaling the amount stated above within Ten to Twenty weeks upon measuring, following redemption and confirmation of my eligibility.
ii) My winnings are subject to IRS and applicable state rules regarding winnings. For the 2022 season, I understand if I have won a prize valued over $600, a 1099 will be provided to me by Bath Planet of Jacksonville. Sponsor will not take out federal and state income tax. The ultimate tax liability is my responsibility; and I understand if I am not a legal United States resident, I must supply a copy of my valid passport as well as evidence of my address.
B. ELIGIBILITY:
(i) I am at least eighteen (18) years of age or older, and I am the owner and deed holder to real estate located in the Bath Planet of Jacksonville servicing area.
(ii) I am not an employee, immediate family member (parent, child, sibling or spouse, regardless of where I live) or a person living in the same household of an employee or immediate family of Bath Planet of Jacksonville ("Sponsor"), or anyone who works directly with the Bath Planet of Jacksonville Down to Earth Sweepstakes or any related party (collectively, the "Released Parties")
(iii) I possess and agree to supply a valid United States driver's license, passport (for non­ US residents), or official military photo identification and (if I have one) a unique, personal and valid social security number, which will be used by Sponsor to report the tax liability associated with acceptance of the Down to Earth Sweepstakes.
C. RELEASE / PUBLICITY
(i) I, to the fullest extent permitted by law, agree to indemnify, defend, hold harmless, waive, and release the Released Parties and each of their respective parents, affiliated companies, subsidiaries, officers, directors, members, managers, employees, agents, licensees, distributors, dealers, retailers, printers, representatives and advertising and promotion agencies, and any and all other companies associated with the raffle, and all of their respective officers, directors, members, managers, employees, agents and representatives for any injury, claim, damage or loss which may occur, directly or indirectly, in whole or in part, from the participation in the Down to Earth Sweepstakes  or from the receipt or use of any prize or activity related to the claiming, receipt or use of any Prize.
(ii) I hereby give my consent (and agree to sign any additional documents required by Sponsor to formalize, effect or perfect such consent) to the Sponsor and Released Parties for the use of my name and/or likeness (photograph and/or video), biographical information, and voice in any and all advertising/publicity/trade (including local and/or national television stations, or print publications may be covering the winner of the Down to Earth Sweepstakes ) without compensation, notice or approval and further disclaim any ownership rights in the content of such advertising/publicity/trade material.
I understand and acknowledge Sponsor and the Released Parties are only responsible for the Prize as described in the Official Rules; and I am solely responsible for all other expenses not specifically mentioned herein, including any changes in color, material, type, size or configurations or additions in product or services including work done with Rock Solid Plumbing/Bath Planet, transportation, parking accommodations, meals and beverages, incidental expenses, and gratuities relating to my acceptance and use of the Prize, if applicable 
I understand and acknowledge my right as winner of the Down to Earth Sweepstakes is non-transferable. I understand any and all federal, state and/or local taxes on the Down to Earth Sweepstakes are my sole responsibility.
It is understood and agreed this is a complete RELEASE and DISCHARGE of all claims and rights of the undersigned against the aforementioned Released Parties, and no action will be taken by or on behalf of the undersigned with respect to any such rights, it being understood this release shall be binding upon the heirs, executors, and administrators of the undersigned.
I agree to forfeit immediately upon demand from the Sponsor (or a party acting on their behalf) any Home Makeover prize, which may be awarded to me if any statement made by me in this Affidavit and Release Form is or becomes false.